WBS SOLAR PUMP - Solar Submersible Pump Installation Instructions
Solar photovoltaic water pump system mainly consists of 3 components: solar water pump controller, water pump and solar panel. The solar panel generates electricity and drives the water pump motor through the controller. Solar submersible pumps do not require much maintenance. It's also very easy to install equipment.
What we get for you(Package Include):
- 1 x DC solar submersible pump with one 2m cable
- 1 x Pump Controller with MPPT function
- 1 x Installation kits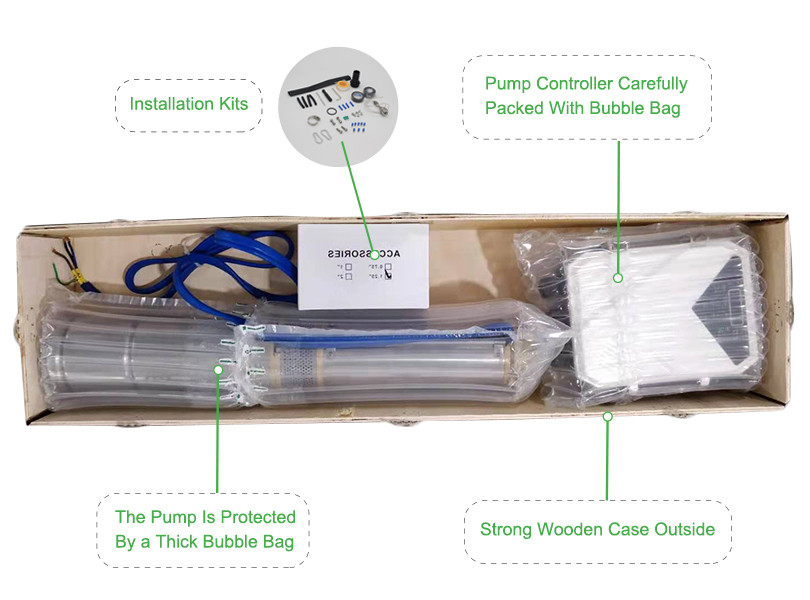 You need to get by yourself(Package DO NOT Include):
- Suitable solar panels. There're some suggestions in the instruction book.
- A stainless steel wire ( called safety cable) to hold the pump in the bore. If pumping water from a dam or river, a float set up required.
- Poly pipe from the pump to the water tank. ( recommend 1.25inch/2inch or over diameter poly pipe)
- Wire power cable (2 wires plus earth). we recommend cable size at least chicken than the original cable in the pump.
Follow the video instructions to install.
E-mail: wbs.au@outlook.com
WhatsApp/ Tel: +86 16605743599