WBS SOLAR PUMP - Solar Submersible Pump Zambia Application Reference
Solar pump is a pump that uses electrical energy generated by a photovoltaic module as an energy source. There is no need to connect to the power system or drive the internal combustion engine. Solar pumps have lower maintenance costs and are more economical than internal combustion engine driven pumps. And the environmental impact is also smaller than the internal combustion engine pump.
Solar pumps are suitable for applications that do not have a grid and that do not provide sufficient energy from other sources. Solar pumps can transport drinking water as well as animal water or irrigation water.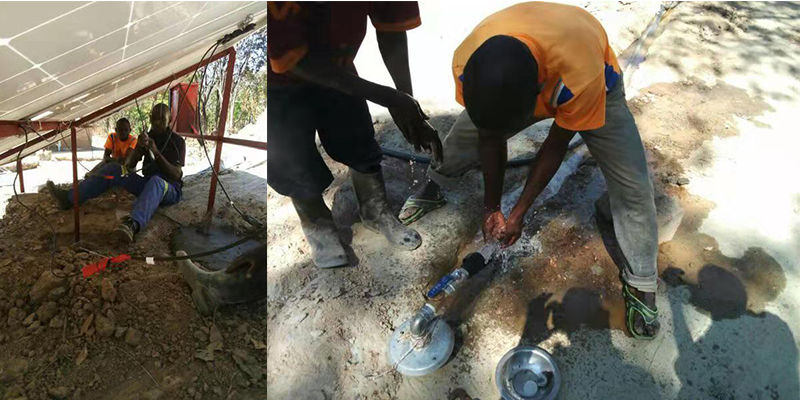 Zambia is a landlocked country in Central Africa. It is basically a tropical steppe climate with abundant solar energy resources.
Agriculture is an important part of Zambia's national economy, with output value accounting for about 18% of GDP. About two-thirds of the country's population is engaged in agriculture. There is a general lack of irrigation systems in cultivated land in Zambia, and crop resilience is weak.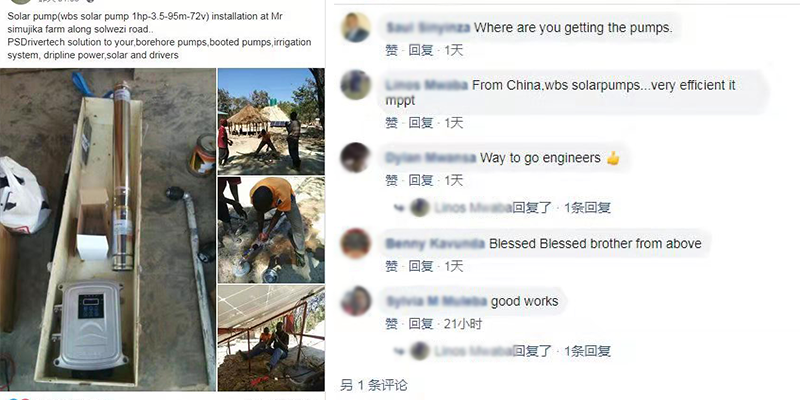 Zambian customer Linos purchased WBS solar pump 1hp-3.5-95m-72v for farm irrigation and domestic water. The solar pump installation at Mr simujika farm along solwezi road. This is a 3-inch DC brushless solar submersible pump. The model number is 3DPC-3.5-95-72-750, the maximum flow rate is 3.5 cubic meters per hour, and the maximum lift is 95 meters. Four 250W solar photovoltaic panels are required.
After the customer installs, they are very satisfied with the product and recommend it to others through facebook.
If you are interested in solar water pump system, you can click to consult us. We will have professionals to answer your questions!
E-mail: wbs.au@outlook.com
WhatsApp/ Tel: +86 16605743599