Professional SMT Line: Accurate & Fast Production of Printed Circuit Boards for Solar Pump Controller
SMT stands for surface mount technology, PCB stands for printed circuit board. To mount electronic components directly onto the surface of a printed circuit board, we use the SMT production process. This means that we also give our clients the possibility to produce circuit boards (PBCAs) for electronic devices. Electronic manufacturing using SMT implies that the electronic components are assembled automatically. The SMT line machine and the SMT assembly line equipment place the electronic components onto the surface of a board.
Our SMT machines are mainly used for sectors such as telecom, automotive, strategic electronics and healthcare. Therefore we must be capable of placing components with a high level of accuracy, especially in modern times where technology is increasing in complexity and variety. Downsizing of the circuit boards also became an important innovation as the demand is for smaller and faster boards.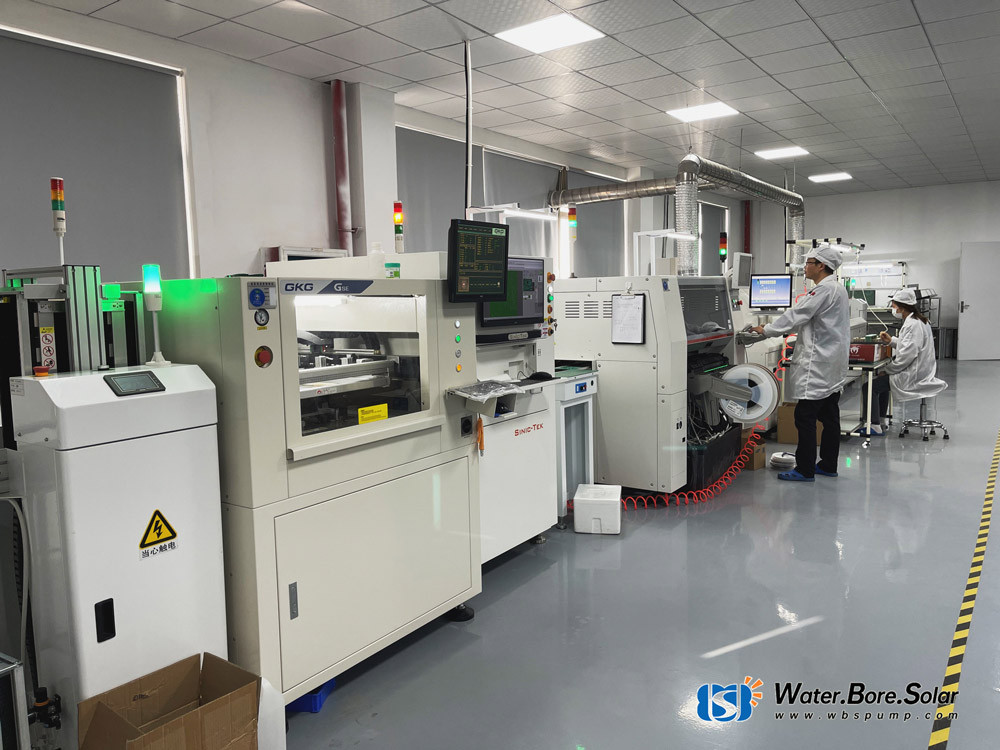 SMT line efficiency
Line efficiency is essential for every manufacturer and assembler. This goes especially for printed circuit board production. Line efficiency is the ratio of the number of hours a pick-and-place machine positions parts on the PCB divided by the quantity of hours the SMT assembly lines are staffed. The overall aim is to manufacture as many PCBs without quality loss of the product in the shortest period of time.
Let's improve our efficiency!
We always continue to improve our line efficiency. Collecting data is one of the many important ways to improve efficiency. But just collecting data is not enough. With the data, we calculate and identify factors that could be improved.


Why does we built our SMT line of solar pump controller?
First of all, in order to keep WBS Solar Pump in the position of No.01 solar pump factory in China, we must expand the scale and create our own advantages. We started small-scale R&D and small-scale controller development as early as 2019. Mass production.
Secondly, in the course of many years of production and sales, many customers have put forward many valuable suggestions and suggestions for improvement of our controllers and pumps, and we hope to realize them as soon as possible. So we must have our own controller function research and development team.
Of course, Covid-19 is also an important factor. As we all know, since the beginning of Covid-19, the world has entered an era of severe chip shortage. It is not just the prices of chips and various components that have gone up wildly. Therefore, in order to reduce costs (stabilize the price of the controller, thereby stabilizing the price of the pump), and to better control inventory, so that our controllers do not cause shortages, we have to speed up the progress of this project.
Currently, we not only have DC solar pumps, we also have AC/DC automatic switching pumps. In early 2022, we will launch Hybrid solar water pump with Water-filled Motor. I believe that in the near future, we will have more industry-leading products.