WBS SOLAR PUMP - 4DSC5-67-48-750 4-inch solar submersible pump US Application Reference
4DSC series solar pump is a WBS 4-inch stainless steel impeller solar submersible pump series. This series of water pumps are very popular in the United States, Australia, Mexico, Saudi Arabia, Malaysia, the Philippines, and other countries.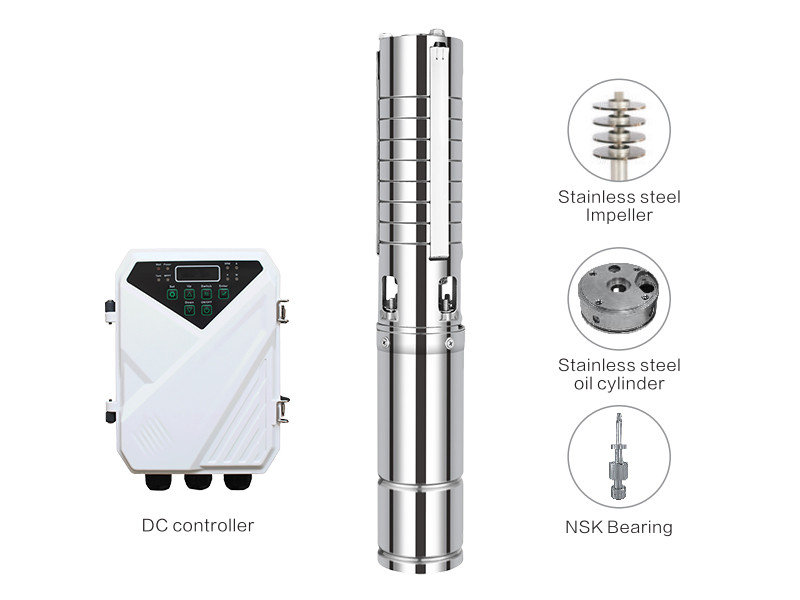 4DSC solar submersible pump has the following advantages:
1. Permanent magnet DC brushless synchronous motor: The efficiency is improved by 15%-20%; Save energy; Reduce the consumption of solar panels.
2. 304 S/S pump shaftt/impeller/ oil cylinder.
3. Japanese NSK bearing, the working life will be 3 to 5 times prolonged.
4. Double bearing motor base can work under more axial pressure
5. Alloy mechanical seal: Longer working life and high reliability.
6. Motor coil is made by automatic winding machine with centralized winding technology, motor efficiency is much improved.
7. Intelligent water shortage protection: The pump stops working automatically when there is no water in the well, and automatically start working 30 minutes later.
8. Equipped with MPPT function solar pump controller, high solar energy utilization rate. With automatic charging function, frequency conversion function and automatic startup and shutdown, soft start and so on.
American customer Mr. James purchased a 4DSC5-67-48-750 stainless steel impeller solar submersible pump for domestic water and irrigation. The maximum flow of this pump can reach 5m³ / h and the maximum head is 67m. The customer configured four 265W solar photovoltaic panels to power the water pump. The pump works well in the morning when the light is not very strong.
Mr. James was very satisfied after using our pump. He believes that WBS's 4DSC series solar submersible pump has good performance and cheap price.
If you are also interested in WBS solar water pump, please contact us for more product details.
E-mail: wbs.au@outlook.com
WhatsApp/ Tel: +86 16605743599